New Volumetric Microwave Sensor for UGS Mk2 system ensures security in difficult seismic and/or weather conditions.
When UGS Mk2 system were operated in complex, industrial noise environments such as close to railway tracks or pierces, seismic sensors used to generate false alarms and thus hampered intruder detection. Besides, seismic sensors did not respond to infringements on some types of soils such as dry cracked soil or plots of lava spillage or former marshes.
Uniscan Research has developed 433 MHz Volumetric Microwave Sensor that makes it possible to secure irregularly shaped territories. The sensor got its name because it used the frequency of 433 Mhz - no permits are required to use this frequency. Besides, this frequency emission is easily blocked by usual metal-mesh fences as wave length is bigger than mesh cell size.
Sensor helps to guard properties surrounded by a fence and use the fence to limit the covered area: The sensor detects intruders only inside the protected area. This is especially important for protection of civil properties with people picking mushrooms or cows grazing nearby as seismic sensors would identify them as intruders.
RSL has a high factor of safety: The sensors were tested in extreme weather conditions such as constant rains and electrically charged air as well as on clayed soils and crushed stone. The sensor is equally efficient with concrete and asphalt, grass and bushes and even under the snow cover.
Besides, high sensitivity allows the sensor to cover unconventional landscapes and properties such as hills and complicated tubes. RSL, like the other components is wireless and optimized for years of autonomous operation.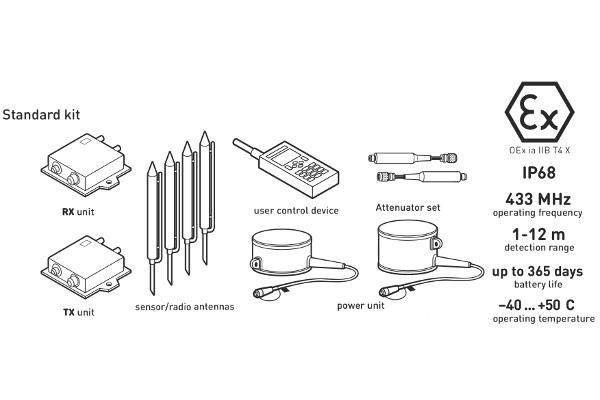 Technical Lead — Anatoly Kozlov
Managers — Anton Ryadinsky, Anatoly Kozlov
Receivers and transmitters - high-frequency system — Sergei Romanov
Low-frequency system, microcontrollers — Evgeny Slysarenko
Testing, debugging — Alexander Zykov
Antennas, external attenuators and high-pass filters — Valery Evdokov
Design engineers — Alexander Shamov, Elena Efimova, Dmitry Haustov
Programmer, algorithms — Evgeny Bausk
Programmer — Andrey Bykov
Technologist — Viktor Vysotin
Prototyping — Kirill Galichkin
The second edition of the secutity system with ruggedized sensors and bigger coverage.
Autonomous portable X-ray complex makes it possible to perform medical diagnostics even in remote villages and emergency situations.
One of the first scanners created in the USSR makes it possible to image any object, from a sheet of paper to the landscape behind the window.