We developed a portable security system with unique performance characteristics meeting the highest requirements set by military and security forces
Small-scale solutions stand out in the technical security systems. These solutions provide lightweight and compact sensors used by special forces units in field counterterrorist missions. Due to their specific application, sensors have to meet the highest reliability requirements, while being still compact enough to be used in special mission operations. These issues significantly complicate the process of system development. Nowadays, there are at most ten compact security systems worldwide. However, compact security systems available at the moment in the Russian Federation are dramatically obsolete. We decided to take on the development of a new compact security solution.
From the development start to the release date we were in close cooperation with future users of the system: together we set and prioritized requirements, tested the system, analyzed the feedback.
Finally, we developed a list of critical requirements for a new security solution. The developed requirements are provided below in descending order of priority:
1. The lowest possible weight and dimensions.
2. Weatherproof design.
3. Easy and quick deployment.
4. Easy camouflage.
6. Real-time message delivery.
7. Visual reconnaissance (real-time video or photo surveillance).
8. Flexible system configuration (different types of independent sensors).
Based on the collected requirements, we defined the key architecture and operating principles of the future solution.
The system encompassed the following components:
• Control Unit designed to display received images and alarm messages as well as to set up the system.
• Camera Trap designed to receive pictures of the monitored area. The camera can be triggered manually or by an alarm of an external sensor, such as Ground Sensor and Break-Wire Sensor.
• Ground Sensor designed to detect trespasser's movements (personnel or vehicle) and trigger the camera trap.
• Break-Wire Sensor designed as an alternative detection solution. The sensor monitors the tripwire, generates an alarm message if it's cut and transmits alarm data to the control unit. The message sent by the sensor can trigger the camera trap.
To extend the communication range, we complemented the system with a repeater that can be mounted on an elevated site or a tree by providing high-quality communication at up to 1 km distance.
SENSORS
From the user's point of view, an ideal sensor is a one-piece unit with the built-in antenna that is ready for use once it has been unpacked. The first prototypes have been developed based on this concept: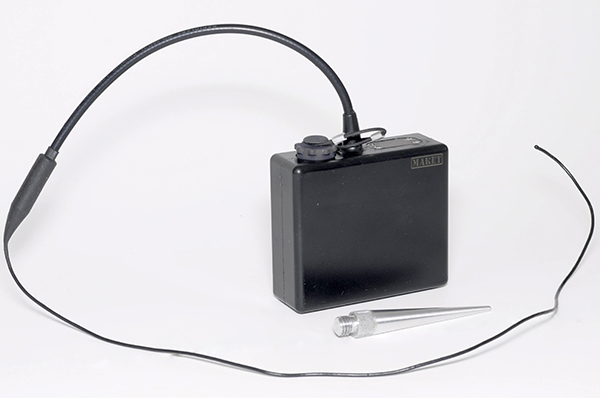 First tests have shown a low efficiency of units with built-in antennas primarily due to the short communication range. Built-in antennas are convenient and easy camouflageable, however, they are not able to provide the required communication range due to certain physical principles.
Initially, we planned to use one AA battery for power supply, but it couldn't provide the required time of unattended operation. Also, the first prototype turned out to be too heavy (over 500 g) due to the specific material of its casing.
The team decided to redesign casings and antennas. After redesigning, new seismic, tripwire and retransmitting units got the following new features:
1. New compact and lightweight plastic casings.
The battery compartment has been isolated from electronics and sealed. Despite the increased number of the batteries, we could reduce the weight of the devices up to 300 g due to the new design of the casings.
2. External antenna with a flexible metal basement.
The newly designed antenna basement also functioned as an antenna counterpoise which extended the communication range up to 300 m.
CAMERA TRAP
It was our primary goal to design a device compatible with commercial accessories. That is why our camera trap is powered by two regular AA batteries, can be mounted on any commercial camera tripod with 1/4" screw, saves images to microSD card.
Visual confirmation of an alarm is critical at any time of the day, that is why we equipped the device with the IR illumination. Images quality allows identifying a trespasser at the distance of 30 m at night up to 60 m during the daylight hours.
CONTROL UNIT
As the control unit had to be convenient for quick missions, we developed a special design to make it suitable for constant wear on the forearm by equipping it with a simple fastening system.
The control unit has been equipped with the water-proof casing, impact-resistant color display, GPS/GLONASS modules, and two AA batteries power supply. For purposes of higher reliability, the device keeps operating even when one of the battery elements is low. The friendly graphic user interface allows the user to easily monitor the operation of all sensors in real time.
TRANSPORTATION
The weight of the sensors set in standard configuration (11 devices) does not exceed 8 kg. The backpack specially designed for the system allows transporting all components by only one person. At that, each system component is equipped with the individual MOLLE pouch, which allows all group members to take part in equipment transportation.
PROJECT RESULTS
This project turned out to be one of the most complicated challenges that we've faced earlier. Despite all the difficulties, we managed to achieve the required performance characteristics for each component and seamlessly unite them into one system. Each element fulfills its unique function. The system is flexible and can be used in a variety of scenarios.
Due to its weatherproof design, extremely small size and weight, long period of unattended operation with regular AA batteries (6 days), our T-UGS system can successfully compete not only with domestic but also with foreign security systems.
Manager — Anton Ryadinsky
Technical Leads — Anton Abornev, Alexey Fateev, Pavel Karavaev
Electronic Engineer — Sergey Antonenko
QA Engineer — Alexander Sterinovich
Techwriters — Ludmila Hohlunova, Anton Zaharov
Design engineers — Konstantin Kurilskij, Alexander Shamov, Peter Pavlov
Programmer — Vadim Bonert
Automation Systems Engineer — Alexander Borisov
Сircuit engineers — Alexander Afonin, Konstantin Kizyakov
Analyst — Leonid Stankevich
Radio — Valery Evdokov
UNATTENDED TERRAIN MONITORING SYSTEM (UTMS). The system is designed to prevent illegal and terror activities on critical infrastructure objects.
Our company designed a pressure monitoring device for an oilfield service company to provide pressure monitoring during well stimulation process.
In cooperation with TION company, we developed an unattended air monitoring station